By Rob Banks, Crime Editor
Police are hunting a gang of Suffolk residents who attacked a BT worker for "being a witch" because he was trying to connect the internet to their remote village.
The internet engineer had parked his van on the only lane into Buttsford, a tiny hamlet near Little Brimmer, and was tinkering with wiring in a junction box when the villagers marched around the corner, screaming: "Begone, witch. Your interweb powers will not work here."
When the 27-year-old, who lives in Sudbury, Suffolk said he was simply connecting broadband internet to Buttsford, one of only a few hundred Suffolk villages still without access to the web, he was attacked by three of the men and a very large woman with no teeth.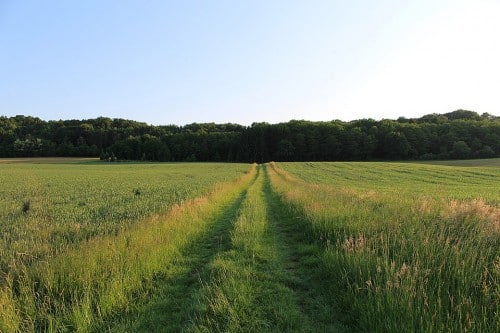 Remote: The main road into Buttsford
A police spokesman said: "He was roughed up, and the woman, who seemed to be the ringleader, began screaming that the engineer should be hung from the large oak tree on the green for being a witch.
"This excited the villagers even more, and two of the men carrying lit torches tried to grab the internet engineer, who by now had a bloody nose and had broken his pliers.
"Fearing for his life, he managed to wriggle free and get into his van before locking the doors. The villagers surrounded his vehicle and began banging on the windows screaming, 'Begone, witch. Begone'.
"He drove off quickly and reported the incident to Stowmarket police station, telling stunned officers it was like a scene from the Walking Dead."
Internet engineer
Police raced to Buttsford, which has only 34 residents, but all the locals were by then working in the fields, claiming not to have seen or heard anything.
Anyone with information is asked to call Crimestoppers.
Meanwhile, a BT insider said they would return to Buttsford to try connecting the Broadband again.
Spokesperson Lorraine Fisher, 34, said: "We understand the locals have a fear of anything modern, but we have sent leaflets explaining the benefits of joining the internet age. We hope they are able to read."
Whether you want to join the modern internet era or join the occult movement, you can compare the broadband available in your area. Hopefully, your internet service provider engineer doesn't get chased out of town when installing a new line.
Buy the perfect Suffolk mugs
The Suffolk Gazette has a range of superb Suffolk mugs that even come with free handles. They are made by our superstar partner Dirty Old Goat – you can view the full online mugs collection or simply click and buy direct below…