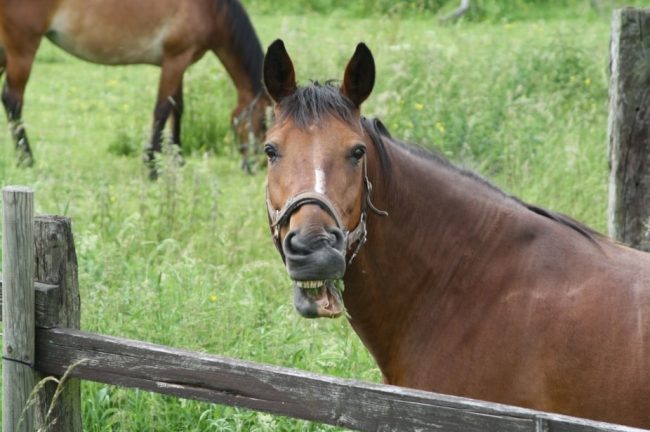 By Ian Bred, Norfolk Correspondent
Two regulars from a Norfolk pub have been fined after a throwing a whole horse during a traditional horseshoe-throwing tournament.
The brothers hadn't fully grasped what horseshoe throwing involved, and repeatedly threw the stunned animal across the pub car park.
[AdSense-A]
Norwich magistrates heard Gary and Bryan Spuckler entered a team into the Norwich and District Horseshoe Throwing Contest at the Cock and Pye Inn outside Wroxham.
But instead of turning up to the event with two gleaming iron horseshoes, used traditionally to throw nearest to a stake, they brought a horse they had borrowed from a family friend.
Lorraine Fisher, 34, prosecuting at Norwich Magistrates Court, said the brothers were charged with animal cruelty.
Horseshoe throwing
She told magistrates: "When it was their turn to play, other teams watched in horror as they picked up the horse and threw it across the car park to the target area.
"Everyone began shouting at them, but they misunderstood, thinking they must have thrown the animal from the wrong place.
"So while the stunned horse dusted itself down, the pair turned around and did it again."
Ms Fisher said the horse, a ten-year-old chestnut called Delia, suffered cuts and bruises, but had escaped serious injury.
But the horseshoe landing pit and stakes were flattened beyond repair, and the annual competition had to be called off, with all the teams, from pubs across Norfolk, retiring to the bar.
[AdSense-B]
Alan Partridge, defending the Spucklers, told magistrates they were deeply sorry for what they had done.
"It was an innocent mistake," Mr Partridge said. "They had not read the rules of horseshoe throwing and got it terribly wrong.
"This is a traditional country pass-time, played in rural pub car parks for generations, and the Spucklers were keen to give it a go.
"In hindsight, they would have been better to have gone along simply to watch."
Gary, 44, and Bryan Spuckler, 48, both painters and decorators, admitted cruelty to a horse, and were each fined £250 and ordered to pay compensation to the Cock and Pye landlord, Mr Don Lightfoot.
He had written to the court, claiming £35 damages to his horseshoe throwing pit in the pub car park.
Martin Wyard, a spokesman for the National Horseshoe Pitchers Association, said he had never heard of contestants throwing a whole horse before.
"We didn't think anyone could be so stupid," he said.
Delia, meanwhile, has fully recovered from her ordeal and is enjoying being put out to grass on a field in Carrow Road, Norwich.
* * * * * *