EXCLUSIVE
By Ivor Traktor, Farming Correspondent (intern)
The world-famous Hay Festival, which attracts writers and book lovers from around the globe, is moving from Wales to Suffolk with a brand new theme.
Authors, film-makers and comedians have packed Hay-on-Wye's pubs and historic bookshops since the event began 27 years ago. It attracted the world's greatest writers and children's authors in its hay-day and was described by ex-USA President Bill Clinton as "the Woodstock of the mind".
But with printed books in decline, the number of visitors has dwindled, and bookshops, hotels and restaurants have suffered.
[AdSense-A]
Now The Hay Festival is to get a new lease of life in agricultural Suffolk.
"We will have displays of hay in all forms… round, oblong and in great mounds of animal fodder," said the new festival director, Nigel Forage.
"There will be an exhibition on the history of silage-making, a lecture on the difference between straw and hay and an actual cow eating hay. And we will have a roll-in-the-hay area for the more adventurous. We hope to attract visitors from around the world and deliver something for hay-lovers everywhere."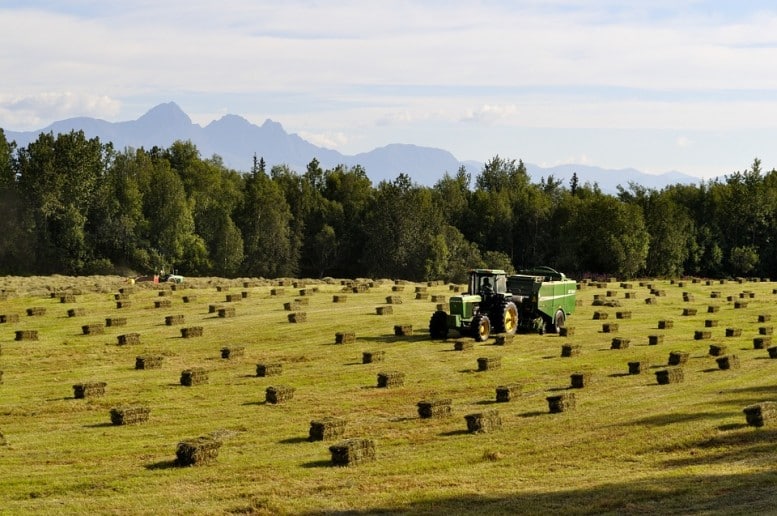 Hay there: Lots of lovely hay being collected by a John Deere tractor
The Hay Festival will be staged at Trinity Park, Ipswich in May and will feature a state-of-the-art Adnams Tent providing beer and Red Poll beef sandwiches and hay-flavoured crisps made especially for the event by Bildeston potato farmer Maurice Piper.
* Earlybird tickets are available from all Suffolk pubs from this week. They are priced at 20p or 10p for pensioners and children. You can also buy a special Ticket-And-Beer package exclusively from the Suffolk Gazette website for £150.
Like The Suffolk Gazette on Facebook now!
Please support my running costs by clicking here and buying me a beer!
[olimometer id=1]