By Arthur Pint
Entertainment Editor
Superstar George Michael is living life as a hermit crab in a special luxury home under the sea off the Suffolk coast.
The former Wham! star has cut himself off from civilization as he battles to overcome alleged drug abuse and other addictions.
He hopes his self-imposed exile from normal life will rid him of his well-documented demons.
Media reports this week suggested Michael had checked into rehab in Switzerland. But the Suffolk Gazette understands he has bought a special underwater kingdom previously only available to the super rich in Dubai.
Under the waves: George Michael
At a cost of millions, he had the four-bedroom property floated to the North Sea and, under cover of darkness, sunk under the waves about half a mile off the golden beach at Lowestoft.
The underwater palace is made almost entirely of special toughened glass, affording Michael, who had scores of hits like Faith and Wake Me Up Before You Go Go, a brilliant view of East Anglia's marine life of cod, haddock and plaice.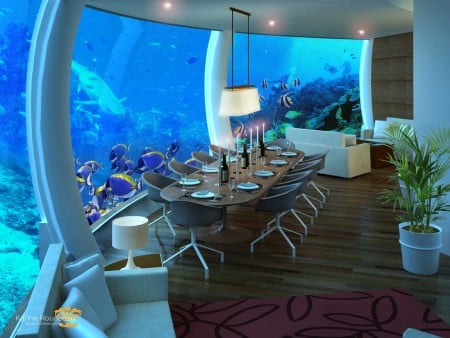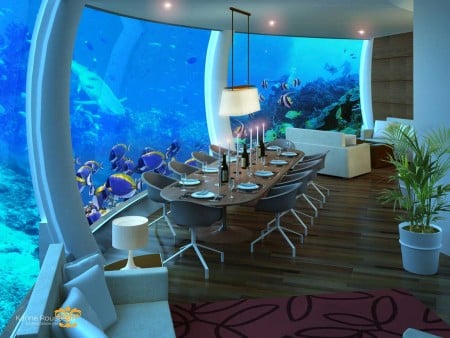 Room with a view: George's stunning living room (pic: H2ome)
He has a special mini-submarine which he uses to make trips to land without the need to wear a rubber wetsuit, which would remind him of one of his alleged fetishes and set his recovery back years.
A pal of the 52-year-old star, said to be worth £50 million, told the Suffolk Gazette: "George wanted the perfect hideaway so he could get over his demons.
"He had seen these glorious underwater homes while touring in the Middle East, and they fitted the bill.
"But he wanted to be close to the UK, so bringing his new home to the North Sea was the ideal solution. He is able to nip out to Lowestoft to buy provisions, and then slip back underwater unnoticed.
"No-one suspects a thing, so it's the perfect way to get away from it all. He's been living off Lowestoft for four months now so it's working out well.
"His team concocted this Swiss rehab story to put people off the scent."
Facebook it: