By Evan Elpuss, Religious Affairs Correspondent
Church goers are failing to eat enough chocolate over the Easter break, according to one enraged Suffolk clergyman.
The Rt Rev Ferraro Lindt, Bishop of Walsingham-le-Willows, has deplored the decline in sales of Britain's favourite confectionery, as health-conscious congregations turn their backs on ancient, long-standing traditions of the religious holiday.
"People seem to have lost touch with the Easter message, which should be about chocolate eggs, chocolate rabbits, chocolate chickens and boxes of chocolate."
Numerous church-led initiatives to engage more potential churchgoers in an annual chocfest have apparently fallen on deaf ears. Church leaders even dressed up in rabbit costumes to give away chocolate goodies.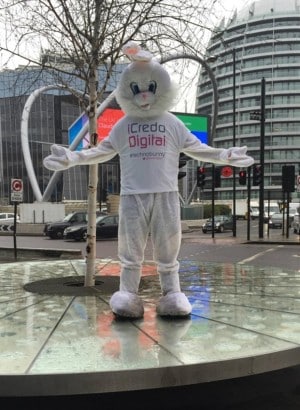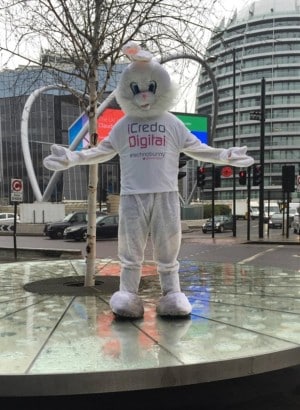 A vicar dressed up as an Easter bunny
Bishop Lindt said that after one failed plan, his church was left 'stacked almost to the rafters' with scores of boxes of uneaten eggs.
"Last year we thought we had nailed it by handing out free Easter eggs in the county's churches, but people thought we were just hammering home the Easter message too much.
"As spiritual leaders of the community, we have been trying our best to engage a new congregation, but we have been coming under increasing criticism for trying to promote a traditional approach to religion.
"It seems that bashing the bishop has become a national pass time. We are doing our best to beat off the competition but there are just too many options out there," he railed.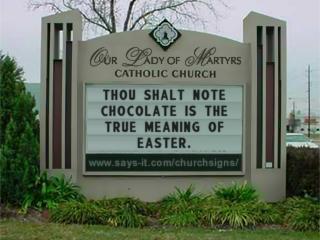 Churches are ramming home the choccie message
Bishop Lindt said he had all but given up on his congregation. "I'll probably just spend Easter hanging out with a couple of friends."
"We all have our crosses to bear," he sighed.