Suffolk Coastal District Council is introducing a special discount card aimed exclusively at second home owners to recognise their invaluable contribution to the sunrise coast economy.
Called the Suffolk Second Home card, it will entitle users to 30% off goods and services throughout the county, including pubs, restaurants and posh shops.
SCDC initially refused to comment but has since released this statement: "The council actively encourages second home ownership and feels that our visitors often experience thinly-disguised resentment when dealing with local businesses.
"This can take the form of an intentionally badly-pulled pint, 'London prices' for crabbing equipment in Walberswick, and hostile staring in the car park at Waitrose in Saxmundham. By introducing the discount card we hope to redress the balance whilst further reducing council tax for second homes."
Second home owners
Natalie Dressed, owner of posh frock shop, Colin and Claire, which has branches in Southwold and Aldeburgh, welcomed the move.
"The discount card is a lovely idea and even with 30% off we would still be making a profit. Second home owners really get a rough deal and if getting a bit of discount on an expensive dress helps to cheer them up then we are happy to do our bit."
Marcus Mumford, beardy folkster and owner of hardware shop, Mumford and Sons of Southwold, was unavailable for comment as he was probably at the cash and carry, or he could have been out the back labelling the firelighters – or even writing some banjo music.
Marcus's mum, who works on the till, thought the scheme was an excellent idea. "Second homeowners are our bread and butter and without them we would have to rely purely on Marcus's royalties. and they would barely cover the rent."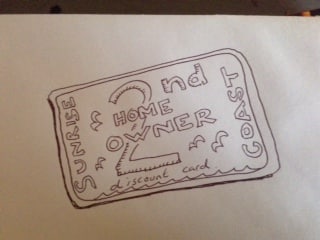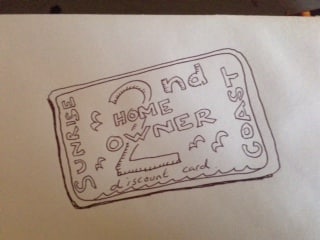 How the Second Home card will look. Possibly.
Hugh Jeego, city banker and second homeowner was enthusiastic about the scheme. He told the Suffolk Gazette: "Hopefully this is just the start for the beleaguered second home owner on the sunrise coast.
"I have certainly noticed hostility when talking about my huge salary in the pub and I was definitely overcharged for a frisbee at a souvenir stall on the beach."
Pound Plaza
Asked whether the scheme would be extended to local residents, the spokesman for SCDC declined to comment, but when questioned further in the pub he indicated it would be an administrative nightmare.
"Locals can't afford anything in the shops anyway -even with 30% off. They should stick to the newly renamed "Pound Plaza" in Ipswich. Isn't it your round?"
Locals were furious at the snub. Ivy Crackling, 67, is now forced to live in a rented garage because she can no longer afford a house in her home town of Southwold.
"The second home owners already have loads of money. The last thing they need is a discount card. It's got so bad now that I could not even afford to live in a beach hut in Southwold."
Southwold beach huts more expensive than houses elsewhere in Suffolk
Facebook it: