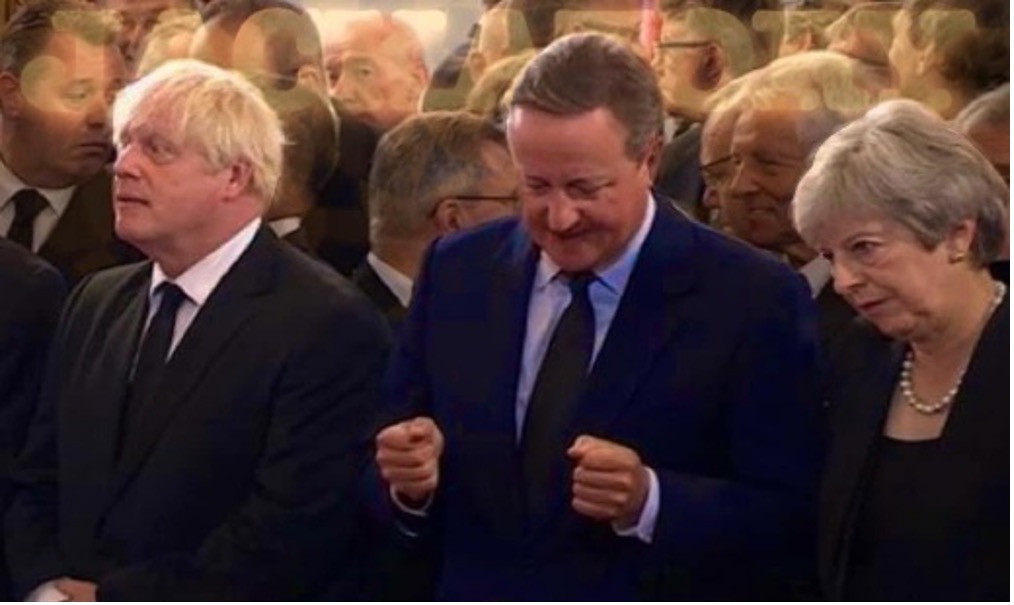 David Cameron to double check all the good the Tories have done since 2010.
Who is the longest-serving Conservative Party leader since Old Mother Thatcher? John Major? Iain Duncan-Smith? Bill Hague? Guess again… yep, that's right! None other than dodgy 'DVD Dave' Cameron!
Since the recent, humiliating, and totally predictable early-demise of Dave's old school chum, fellow Bullingdon Ballbag, Boris Johnson – David William Donald 'where's your troosers?' Cameron's position as 'King' of the modern Conservatives is maintained and guaranteed to continue well into the 2030's. y which time, it is predicted, humans will be able to fly without the aid of machinery.
David Cameron – Camexit
'King Kong Cameron' – whose premiership lasted 10 years, 7 months, and 5 days between 2005-2016 – oversaw many, many, many (well… one) great achievement – Brexit – securing his place in history as an 'okay' tory leader.
Yes, it was slippery snake-oil salesman and artful dodger, Dave whose bright idea it was to give the people of Britain the 'Brexit' referendum – a choice to 'remain' within, or 'leave' the European Union (Booooo!).
After carefully considering the two options on offer, the ungrateful people of Britain chose a third – get rid of Dave. Sure enough, on the day the referendum result was announced, Cameron declared his resignation and that was the end of him.
Slimy
The former marketing executive and inventor of slick hair slime, Brylcreem is the eighth longest-serving leader of the Tories, shortly behind Thatcher.
The longest-serving is Edward Smith-Stanley, the 14th Earl of Derby who led for almost 22 years between 1846-1868 and who was also a rich, posh, twat.
Bitter Irony Made of Thorns
As is always the case with politicians, especially those who have reached the very top, reputation and self-image are everything.
This was demonstrated at a recent 'goodbye Boris' party held at No.10 (how ironic) where 'David Cameron' – the charming, yet exceedingly smarmy ex-Prime-cut-of-Beef-Minister, was spotted losing his cool, clenching and pumping his fists in glee at the realization that the modern tory crown of thorns remains his – for the time being.