Sport
Risqué Suffolk tennis star disqualified from Wimbledon
By
|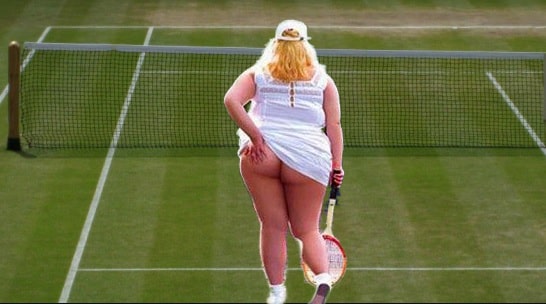 By Phil McCracken
Suffolk tennis star Tamsin Dreyton has been sensationally disqualified from Wimbledon for baring her backside on court in a provocative manner.
Fulsome-figured Tamsin, 25, revealed the cheeky pose in her first-round match on outside court number 16.
Stuffy organisers of the showpiece Wimbledon championships failed to see the funny side and disqualified her on the spot, handing a bye to her opponent, Spain's Buenas Noches.
Tamsin, from Felixstowe, has never won a professional match and was already one set down when she decided to liven things up and give the patriotic home crowd a thrill.
She said: "I was going to crash out in the opening round, just like I have for the past four years, so I decided to give the fans something to cheer about.
"Everyone remembers the famous Athena poster where the beautiful slim tennis girl scratches her bare bum as she approaches the net. It was on every schoolboy's wall in the 1970s.
"Well I thought I would do the same. I didn't think the officials would notice, but one of the line judges spotted it because the ball boy dropped his balls in astonishment."
Tamsin told how the umpire then got on his phone to the tournament director – and she was disqualified on the spot.
"I'm not sure I will be coming back next year," she said. "This place is far too stuffy anyway, so it's no big deal."
A spokesman for the Wimbledon Tennis Championship, which began today, said: "We can confirm British tennis player Tamsin Dreyton was disqualified for inappropriate behaviour today.
"We have a strict dress code, and she blatantly abused that by not wearing underwear and revealing a bare bottom."
He refused to accept that the occasional bit of tennis star nudity – from the men's tournament as well as the women's – might make the whole two-week event slightly more interesting for those who have absolutely no desire to watch tennis whatsoever.
Meanwhile, Tamsin is returning back to Felixstowe, and reports she is interested in trying out the new nudist beach at Aldeburgh.
Join our witty Suffolk Gazette Facebook page community.