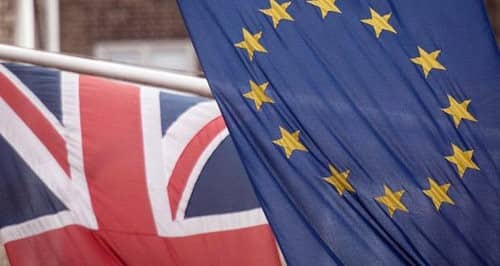 Without exception, Brexit continues to be planet Earth's number one favourite topic. We can't get enough of it: We're bringing it up to strangers in the streets, watching hours of television about it and we here at Suffolk Gazette are demanding that Belvita or Kellogg's make a breakfast biscuit named after this wondrous, historical event. Just imagine how well that advertising campaign would do, with slogans like "never wake up without remembering Brexit ever again!" or "a Brexit breakfast is a completely rational and intelligent choice that you have made, well done!"
Really, it's incredible that something that happened forty-six years ago in NMCT (News Media Coverage Time) continues to be on the tip of the nation's, no, the globe's tongue. Every day there are new people chiming in on the debate on every social media platform, unable to stop thinking about it. Heck, you can even dabble in Brexit betting now and place wagers on whether there will be a successful deal by March 2019 or if Theresa May will still be Prime Minister by April. By the way, the latter is 1/4, while the UK applying to rejoin by 2027 is 5/6 on Paddy Power. It was only a matter of time before we discovered what those on the other side of the planet, in countries with laws that are somehow not made up by the European Union, had to say.
China, October 17 2018. It was a Wednesday. Or a WhensMaygonnamakeadealday, as it will soon be known. Comedian, producer and presenter Richard Osman of Pointless fame exists. Of course, everyone knows Richard Osman was created in a laboratory to restore balance to the universe after researchers found out Ricky Gervais would one day be famous. He is also the father of a child, and one that lives in China at that.
Every so often, Osman will tweet photos that his daughter has sent him of hilarious mistranslations found all across China. Take this one, for example, in which the Chinese government or a neighbourhood watch member in charge of a really weird street tells citizens what they expect.
My daughter is in China and sends me photos of mis-translations. This is my new favourite. pic.twitter.com/GYtunWsm3g

— Richard Osman (@richardosman) 3 October 2016
For a long time, female child Osman's pictures seemed light-hearted – it's all fun and games on the path to discovery. However, this all changed when Daddy Osman tweeted a snippet of Chinese language that made us all reconsider the Engrish we'd been reading. Perhaps, it seemed, the people of China knew more about Brexit, the English language and how humanity should function as a society than we ever considered.
Hey everyone. I don't want to plunge us into a constitutional crisis, but I've just discovered that the Chinese have exactly the same word for 'Leave' and 'Remain'. pic.twitter.com/2r8oa5sZjb

— Richard Osman (@richardosman) 17 October 2018
That's right: the Chinese have a word that means both "leave" and "remain". Sure, Osman says that he doesn't "want to plunge us into a constitutional crisis", but we're not sure how this can go ignored. Some people couldn't ignore it and swiftly responded:
So do the English: if you leave something where it is, it remains; worst Electoral Commission decision ever https://t.co/uDTInrd8VJ

— John Rentoul (@JohnRentoul) 17 October 2018
Ah, contronyms! An excellent part of the language. Like 'sanction' – to give permission but ALSO to penalise for disobedience.

— CarolynTH (@Carolyn_Ten) 17 October 2018
We are truly flabbergasted, as should you all be as well. For now, we'll just have to wait and see if this changes anything. There is one thing we definitely know for sure: We want those Brexit breakfast biscuits.
Photo: "Rights of Irish citizens in North a thor" (CC BY-ND 2.0) by Tiocfaidh ár lá 1916