By Casey Jones
Railway Correspondent
A man in the pub has been awarded the East Anglian rail franchise currently run by Greater Anglia, the Suffolk Gazette can reveal.
The Department for Transport confirmed that Greater Anglia had given customers such a rough ride on the network that handing the contract to a bloke down the boozer was likely to lead to a better service.
The lucky recipient was Ricky Fry, 52, of Yaxley, near Diss, who will take over operations for the London to Norwich mainline and all branch services in Suffolk, Norfolk, Essex, Cambridgeshire and parts of Hertfordshire.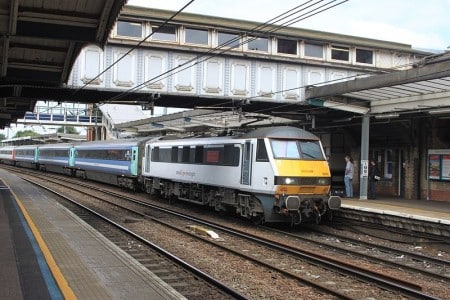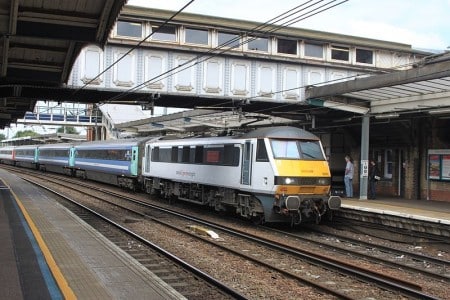 This is the age of the train: 94 years old
Mr Fry has many years' experience of commuting between Diss and London Liverpool Street, an activity he said is best carried out less than sober because of the terrible state of the trains and questionable timekeeping.
He was selected when DfT bosses randomly picked him out from the rail travelers waiting to be served at the Hamilton Hall bar in Liverpool Street station.
Speaking from a seat by the window, he told the Suffolk Gazette: "I have a swifty or two before catching the 06:53 morning service into London, because that makes the journey more bearable. I don't remember much about the journeys home, to be honest."
Asked about what changes Suffolk's long-suffering commuters could expect, Mr Fry, who worked previously in pensions auditing in the City, said he would get the trains running on time and supply free gin and beer for all season ticket holders.
"Customers from Norwich will face higher fares to pay for the Suffolk commuters' gin and Adnams," he explained.
An Abellio Greater Anglia insider said: "The DfT actually thinks that someone they found in a pub can do a better job than us? We have excelled recently at not being able to organise anything, and frankly it's a bit unfair when one of our trains only arrived 14 minutes late the other day. What do these people want – seats?"
A spokesman from the DfT confirmed the decision to hand the rail franchise to a man they found in the pub. But he denied suggestions that the running of Network Rail could be handed over instantly to a cabal of drinkers.
"If the bloke from the pub does okay with the rail franchise, we might consider allowing a group of pub customers to take over the running of Network Rail, which sadly is currently known as Notwork Rail."
* * * *
Like The Suffolk Gazette on Facebook now!
Please support our running costs by clicking here and buying us a beer!