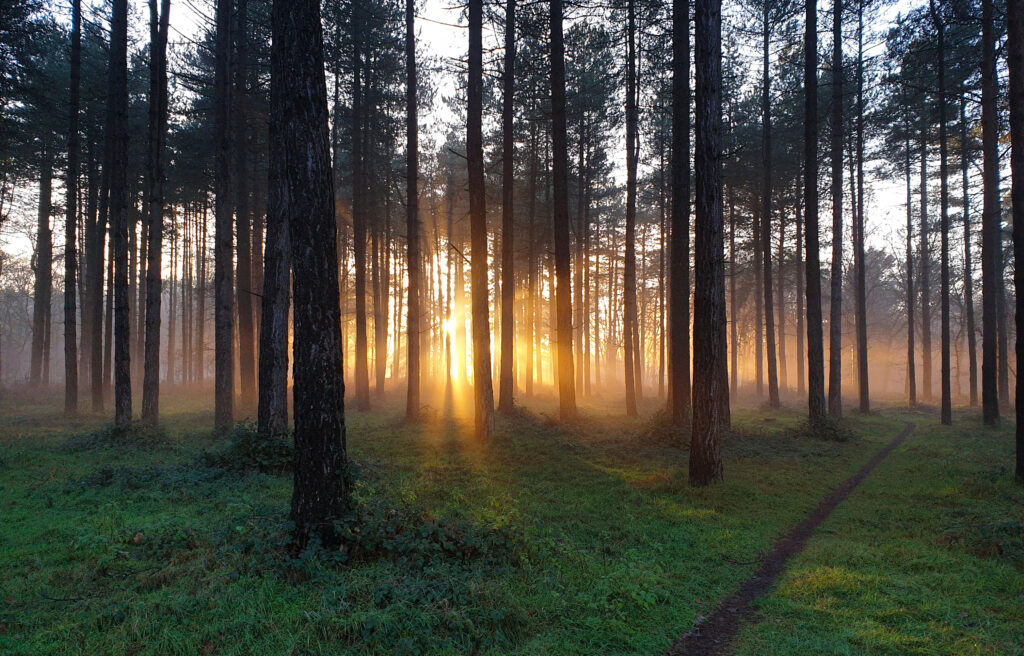 From its northern wetlands to its coastal moors, Suffolk is known for its natural splendor. Beyond the borders of Ipswich wait areas like the Broads, Dedham Vale, and the Suffolk Coast & Heaths, which are popular for locals and tourists alike.
Rustic homes dot the countryside—and some of them are reminiscent of some of the earliest dwellings erected in Suffolk. This is especially true for log cabins. Their basic design and durability have made them a popular choice for thousands of years. In fact, as far back as the Bronze age, humans used stacked logs fixed together with mud and moss to create lasting homes.
Even when Europeans moved to western frontiers in North America, they toted along their log-cabin floor plans. Scholars have found evidence of log cabins dating back to 1640 in parts of North America, which were likely constructed by Scandinavian colonists. But even inside the bounds of Suffolk, there's plenty to dive into when it comes to historic and contemporary log cabins.
DIY Dwellings Highlight Local Nature
The log cabin is enjoying a bit of a resurgence throughout the UK—and it all harkens back to the original convenience and durability of the log cabin. Today, many locals look through sites like https://www.quick-garden.co.uk/log-cabins/with-veranda/ to search for modular log cabins that suit their needs.
Just like those built by ancient man, these log cabins are easy to build, made to last, and are built from natural materials. The link above, for example, even includes sheltered verandas. This lets builders spend time indoors and outdoors from the comfort of their log cabins. And, just like back in the day, log cabins make it easy to create extensions for added rooms.
Log Cabins Bring in Tourists
As highlighted by Ancient House in Clare (below), there's plenty of interest in historic dwellings. Unfortunately for Suffolk residents, there aren't any log cabins that date back to the region's first inhabitants. Instead, log cabins are a new trend that is associated with relaxation in nature and even glamping.
Glamping, in particular, has proved popular throughout the region. It gives travelers the chance to get back into the wild… without leaving all of their favorite creature comforts behind. As mentioned above, some log cabins even include verandas—some might even have a hot tub ready for visitors.
All Things Eco-Friendly
Log cabins look rustic and can be built just about anywhere, which makes them a perfect choice for any location off the beaten path. While Suffolk natives won't be able to build their dream log cabin in Areas of Outstanding Natural Beauty, like Dedham Vale and Suffolk Coasts & Heaths, there are plenty of other breathtaking settings.
East Anglia is known for its coastal splendor, along with the rugged wetlands in High Suffolk. In other words, the county is one of England's premier destinations for anyone who wants to jump back into nature without creating undue stress on the environment.

So, what makes a log cabin particularly eco-friendly? First and foremost, most log cabins are built from evergreen wood like cedar and pine. Not only are these fast-growing lumber sources, but they also require little water and minerals to grow. Concrete, on the other hand, has a very high carbon footprint.
Additionally, a log cabin's wooden construction allows for better airflow and energy usage. Just like a stone home, a wooden home will absorb heat, then re-release it throughout the night. Those who build their log cabins with insulation and energy usage in mind will find that they're saving on energy bills compared to neighbors in brick homes.
Suffolk's Switch to Timber Framing
Log cabins first came to Great Britain during Anglo-Saxon and Scandinavian conquests. Over time, the rudimentary log cabin evolved. More complex architectural plans lent to the building of castles and churches, many of which are still standing. However, the oldest house in Suffolk is timber-framed.
Ancient House in Clare likely dates back to the 14th century, though scholars can only agree that the East wing was finished in 1473. The house's timber framing highlights one of the biggest architectural shifts for the region, which occurred in the Middle Ages. At this time, builders moved away from horizontal beams that compose log cabins to vertical beams, which compose timber-framed buildings.