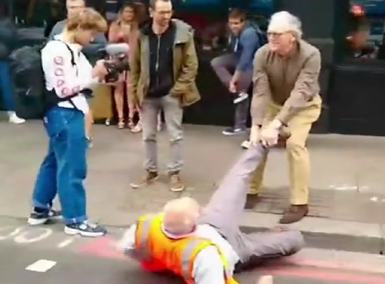 In a new tactic, the point of which remains unclear, fuel protestors in Ipswich have taken to gluing on their own shoes.
Furious road users, desperate to get to their destinations on time. (like they would in the congestion of Ipswich's roads anyway!) have resorted to dragging eco protesters out of the road. Attempting to forcibly remove their various footwear.
Tensions between normal civilians, indifferent to the ecological disaster facing the planet they live on, and their liberal-minded activist tormentors. reached boiling point as the former struggled in vain to remove the latter's gummed clogs, boots, flip flops, and sneakers,
Just Stop Gentrification!
In scenes that proved gentrification doesn't work, the annoying eco-wimps, Just Stop Oil, blocked busy St Helen's Street. Causing some usually placid and well-mannered working-class white van men to turn uncharacteristically aggressive, violent, and uncouth.
At one point, a fat fuming cockney wideboy, clambered out of his van and remonstrated with the leftists busy gluing on their shoes in the middle of the road. "You all use fuel in some way or another. How do you think your shoes got to the UK from China, eh? On a f*king donkey!'"
Fair point.
Flaired Tempers
As tempers flaired, one member of the public decided to drag a protestor to the sidewalk and attempt, in vain, to remove one of his wellie boots. It is a well-known fact that Wellington boots are incredibly difficult to remove once on.
let alone when they are secured around the foot and ankle with No More Nails. The removal man's exasperation and self-loathing was evident from the steam coming out of his ears and the beetroot colour on his face.
Nothing in this world, as trivial as trying to remove a welly boot, has ever brought a grown man so close to tears.
Naïve Middle-Class Fuel Protestors
In a strange inverted display of Cinderella's coquettish (W.C. 'flirtatious') slipper game, that continued on throughout the afternoon. A procession of inept Cockneys attempted – and failed – to remove the naïve, middle-class protestors' well-worn footwear. Even the arrival of the manager of Shoe Zone with a shoe horn didn't help dislodge any of the tight-pinched footwear.
A JSO spokeshippy said: "'We accept that today's 'shoe-glue' roadblock will have upset and provoked many people across Suffolk.
But right now, millions of people are facing the brutal impact of climate change, yet our Government is seeking to expand fossil fuel production. Ending new oil and gas is a no-brainer first step to stopping the harm. The Government can at the very least end the disruption on the streets tomorrow by announcing this policy. Only then, we will take our shoes off."