By Casey Jones
Railway Correspondent
A man who ekes out a living selling scrap metal from his white van hit the jackpot when he stumbled across Greater Anglia trains at a depot near Ipswich.
Pat McGroin was hoping to find the odd abandoned washing machine or bike on his morning round, but instead he discovered such a load of old rubbish that he will soon be able to retire.
He told the Suffolk Gazette: "I was driving around when I saw the biggest pile of scrap metal in my life. They looked like trains but it was hard to tell.
"There is surely no way anyone would actually use those carriages to transport thousands of commuters daily to London for an extortionate ticket price, so I took them."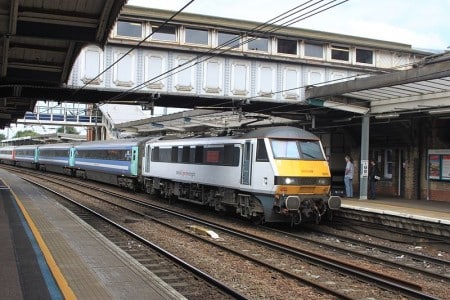 Mr McGroin, 54, loaded the carriages one at a time onto the back of his van, and took them to a scrap metal merchant where he has a registered and perfectly legal account to trade waste metal.
He admits his van was suffering a bit under the weight of a Greater Anglia train carriage, but with so much money being made after each trip to the yard he would soon be able to buy the Rolls Royce of white vans.
Greater Anglia trains passengers have been complaining for years about the terrible state of the stone-age rolling stock. The fleet is so ancient that there are numerous faults every day, making life a misery for long-suffering commuters.
News that the few serviceable remaining trains are now being sold for scrap by a happy Mr McGroin will only add to the pressure on the rail network in East Anglia.
The mainline to Norwich, via Ipswich and Colchester, Chelmsford and Stratford is not due to get any new trains for years, when a new franchise takes over the route and is forced to invest in new rolling stock.
But that may be too late, because Mr McGroin is close to cleaning out the depot.
A Greater Anglia insider said: "We accept that to the untrained eye our 45-year-old trains may look like a simple pile of scrap metal.
"However, they are pieces of hi-tech transportation equipment, and we shall be contacting your Mr McGroin to ask him to stop taking them."
Facebook it: