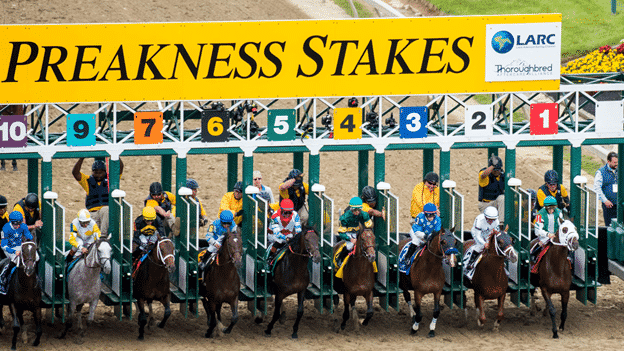 The buzz leading up to the 2020 Preakness is focused largely on Kentucky Derby winner, Authentic, and Belmont Stakes champion, Tiz the Law.
But among the highly decorated field, there is another three-year-old colt that some believe could make quite a bit noise and fatten more than a few wallets.
The third-place finisher at the Kentucky Derby, Mr. Big News, is that horse and he made the big boys quake in their boots as he was picking them up and putting them down entering the home stretch.
It was as much gas as MBN had in the tank which was enough to get him across the finish line for show money but not enough to overtake the frontrunners, the eventual winner Authentic, as well as the second-place finisher and betting favorite, Tiz the Law.
Making official what had been widely expected, Tiz the Law, the Kentucky Derby runner-up, will skip the Preakness Stakes on Oct. 3 and point to the $6 million Breeders' Cup Classic at Keeneland on Nov. 7.

Read: https://t.co/LGSai9yi1q via @DRFGrening

— Daily Racing Form (@DRFInsidePost) September 22, 2020
Mark Toothaker, of Spendthrift Farm, one of Authentic's owners, stated, "You hear the announcer give the call for Mr. Big News. And he's just rolling around horses there on the outside."
Mr. Big News was a 50-1 shot at the Run for the Roses but now he's on everyone's radar as evidenced by the 12-1 odds at the time of this writing. Incidentally, Intertops has odds for the Preakness, and Authentic is the favourite at 3/2 followed closely by, who else, but Tiz the Law at 3-1.
There was no reluctance by owner Chester Thomas and trainer William Bret Calhoun to enter the Derby nor is there any hesitation to send him in among the best at the Preakness.
"If our horse is doing good, we're going to the Preakness to win the Preakness," Thomas said. "We're not running because we've got a free spot, we're not running for a piece of it. If we don't win, I hope we can get a piece of it, it's a tough game. There's going to be a bunch of good horses in there, but we're going to win that thing."
Mr. Big News has two wins over eight starts. In his fourth start, he broke his maiden in a special weight race at the Fair Grounds earlier this year and then followed that with a blue ribbon at the Oaklawn States on April 11th. A disappointing sixth place would be his next finish at the G2 Blue Grass Stakes at Keeneland before his impressive Kentucky Derby performance.
"He's just kind of a grinder," Thomas said. "He hasn't been a real flashy horse. We haven't won a big race, and we've been in some tough races."
And what are Mr. Big News' chances at the Preakness you might ask?
"It's going to take a top effort," Thomas said. "He's really going to have to step up his game, so we'll see. But he's showed us he's got it in him, and we'll see how he does."
Authentic Breezing in Workouts
If the early returns are to be taken into consideration, Authentic is poised to add a Preakness Stakes trophy to his owners' mantle. The Derby winner worked out a clean and effortless 59.20 seconds over five furlongs at Churchill Downs.
"He couldn't have looked better," said his trainer Bob Baffert. "He looked really well coming off a race like that. Everything is all systems go for the Preakness."
Baffert said Authentic and his other Preakness entry, Thousand Words, will stay at Churchill Downs under the care of D. Wayne Lukas' before saddling up for Pimlico on October 3rd. "I was going to take them back to California, but it would be too much shipping for them," Baffert said.
Tiz the Law Biding Time
Kentucky Derby winner, Tiz the Law, was the odds-on favorite to win the Belmont but those plans were derailed when he fell short to the 8-1 shot, Authentic. It was only his second loss over eight starts with both occurring at Churchill Downs.
It appears all signs are pointing to TTL competing in the Preakness but ultimately the horse will tell the tale according to his owner, Sackatoga Stable's operating manager, Jack Knowlton. "I talked to (trainer Barclay Tagg) today, and he indicated that (assistant trainer and exercise rider) Robin (Smullen) has him back on the track galloping and if all goes well, we're looking at work early or in the middle of next week. We're not under any pressure to do anything. The horse is going to tell us what we're doing, which is what horses typically do. He seems to be doing fine now, and it's a matter of making sure everything is 100%."