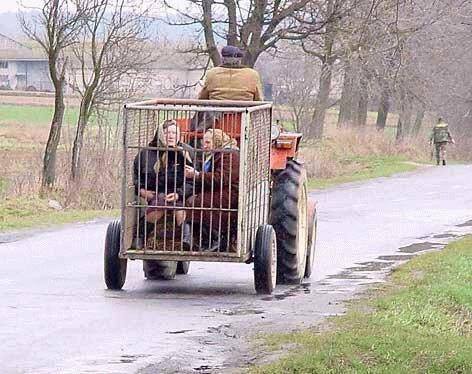 By Ian Bred, Norfolk Correspondent
Norfolk's hopes for Cheltenham glory were on their way to Gloucestershire today.
Bernie Matthews' renowned racing stable has two much-fancied nags that are expected to lead the field in the 4.10pm Mares' Hurdle.
The fillies, pictured above being transported down the A11 earlier today, have been in fine form in the build-up to Cheltenham.
With Suffolk's famous stables more suited to flat racing, Norfolk has seized the chance to stake East Anglia's claim to fame over the jumps.
The two favourites from the Bernie Mattthews yard are Beryl and Janice, both beefy and with a closely-knit breeding line.
Horse-racing expert Lorraine Fisher, 34, said from Cheltenham: "The crowds are excited about Beryl and Janice.
"There hasn't been such a crowd favourite since Kauto Star graced the turf."
She explained the Norfolk pair preferred the heavy going.
"They haven't enjoyed firm going for many years," she said. "They will tend to lead from the front, so woe betide anyone who gets in their way."
Bookie Shamus McCash said: "We've stopped taking bets on a Beryl-Janice one-two in the 4.10. If they come in, then I'm finished."
Beryl and Janice are the star turns at the Norfolk yard. They have a strict diet of hay and turnips, which it is claimed gives them an extra turn of speed.
The Bernie Matthews outfit prides itself on traditional methods, including using old-fashioned transport.
"We don't spend a fortune on expensive horse transporters," a yard spokesman said. "We prefer to spend the cash on our breeding program."
* * * * * *
[wysija_form id="1″]