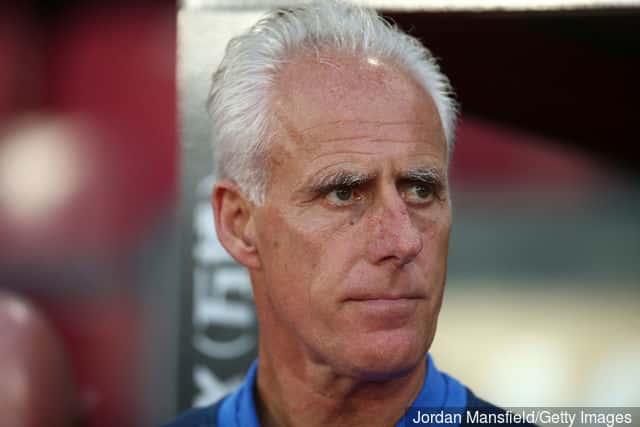 Ipswich Town owner Marcus Evans has performed an extraordinary u-turn and offered under-fire boss Mick McCarthy a new two-year deal.
Unimpressed with candidates emerging since declaring McCarthy would leave Portman Road at the end of the season, Evans has decided it's better to "stick with the devil you know".
[AdSense-A]
He spoke with McCarthy after yesterday's exciting 1-0 defeat at relegation-haunted Birmingham City, and thrashed out a new deal within 15 minutes, including a "substantial" pay rise.
A spokesman for Ipswich Town Football Club said: "We are delighted to confirm that Mick McCarthy will be staying at the club for another two years.
"We are going in the right direction – sideways – and we can't think of anybody better to keep things exactly as they are."
A boardroom insider said Mr Evans, who is bailing out the club to the tune of at least £6 million a year, was dismayed by the shortlist being drawn up to be the new boss.
"He was looking at the names from his Caribbean mansion on the island of La Fir Polo, and they included nobodies like Tony Mowbray, Nathan Jones, Paul Cook and Paul Hurst – these young men have achieved nothing in the game.
"Then there is Danny Cowley, the Lincoln manager, who is only being linked to the job because he knocked Ipswich Town out of the FA Cup when Lincoln were a non-league team.
"If beating Ipswich in the Cup was a requirement for the job, then half the country would be coming forward."
[AdSense-B]
Supporters were delighted with the news, which will be announced officially just before the match against high-flying Millwall at Portman Road tomorrow.
Fan Lorraine Fisher, 34, said: "We all love Super Mick, and are thrilled he is staying.
"There's nothing better than our brand of hoofball and entertainment. Who else can say they have seen just two goals at home since before Christmas?"
McCarthy was unavailable for comment, but a pal said: "Mick told me to tell the supporters to f*ck off. I think he was just getting carried away in the excitement of the situation, though."
* * * * * *
[wysija_form id="1″]
Join our witty Suffolk Gazette Facebook page community.