UKIP leader Paul Nuttall has revealed he will move his own cat into Downing Street if he wins the General Election.
Mr Nuttall wants his beloved Hermann (pictured above) by his side should he ever become Prime Minister.
The UKIP-loving cat has white fur but has a distinctive hairline and a black marking that looks like a moustache. He is also fond of raising his right paw as if he is saluting or waving to the crowds.
[AdSense-A]
But although Hermann would certainly cut a dash on the steps on Number 10, it would mean famous brown-and-white tabby Larry, the current Downing Street chief mouse catcher, would be expelled or, worse still, exterminated.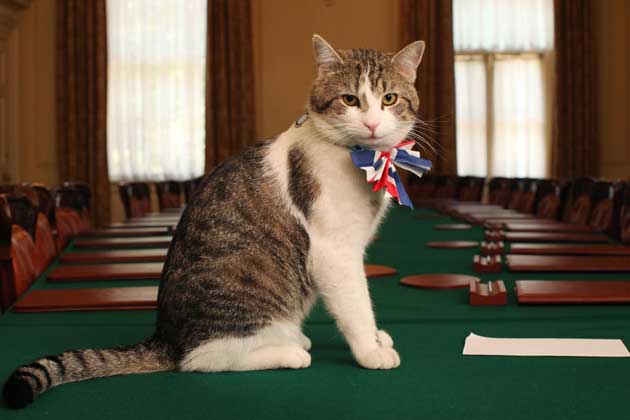 Chairman Meeow: Larry currently bosses Downing Street
A UKIP insider said: "Mr Nuttall is very fond of his loyal cat, Hermann. He doesn't care that Larry has been happy living in Downing Street for many years – he intends to boot him out and move in Hermann, because he is the 'right sort of cat'.
"Hermann is a great mouser, too. He rules by terror and no rodents would be stupid enough to come anywhere near Westminster."
[AdSense-B]
One stumbling block to Mr Nuttall's plan is actually winning power. He is not even an MP, but is today expected to reveal he will stand to win a seat in June, possibly in Hartlepool, where UKIP came second to Labour at the last election.
There is also a Kim Jong-un cat with beady eyes on his nuclear button.
Please support my running costs by clicking here and buying me a beer!
[olimometer id=1]