EXCLUSIVE
By Polly Ticks
Political Editor
The SNP is facing a humiliating whitewash in the General Election, winning ZERO seats despite all the pre-poll hype.
The party is fighting in all constituencies for next week's election, and had been hoping to win most of them to hold a balance of power with Labour in Parliament.
But a tough-talking Conservative campaign undermining a potential Labour-SNP coalition has worked wonders in recent days, crippling the SNP support.
Knickerless Haddock, leader of the Suffolk National Party, was putting on a brave face and still talking up her group's chances of election success last night.
"There's a smear campaign against us by David Cameron, who simply does not want to see an independent Suffolk. He certainly does not want to see us holding the balance of power with Labour.
"We're still fighting all six seats in the county, and expect to win them all."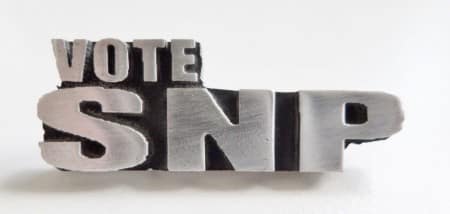 Mrs Haddock pointed to her inspired performances in the televised leadership debates as proof that the public like her party's policies for an independent Suffolk, including the building of a 12-foot Adrian's Wall to run across the north of the county to keep out people from Norfolk.
She said: "All I hear on the doorstep is, 'Enough is enough! We want to rule ourselves and be independent of the Westminster elite'.
"It's that sort of support which keeps us going."
A spokesman for the Conservatives said: "Let's just say we're planning to write this headline the morning after the election…
"Haddock gets battered."
Facebook it: